For international readers, go to the bottom for the English version
Salut tout le monde,
Opera a sorti très récemment (le 09/11) son navigateur très attendu & très utilisé sur Windows mobile : Opera Mobile !
Comment ça ? Opera sur Android ? Mais je l'avais déjà !
Non petit padawan, ce que tu avais c'était Opera Mini (et la différence est grande, mais ce n'est pas l'objet de mon billet).
Cependant il y a un léger soucis : Android (du moins c'est le cas sur Android 2.2 « Froyo ») ne reconnaît pas Opera Mobile (et pourtant ça fonctionne avec Opera Mini) comme navigateur !
Ainsi, il est impossible de choisir Opera Mobile comme navigateur par défaut dans la petite fenêtre de choix du navigateur qui s'affiche en temps normal lorsque plusieurs navigateurs sont installés sur votre Androphone et que vous n'en avez pas sélectionné un par défaut.
L'astuce est un magnifique bidouillage mais en retour vous pourrez enfin utiliser à coeur joie Opera Mobile.
Il s'agit d'installer l'application « Browser Chooser » que vous pouvez trouver sur le Market Android (il y a deux versions, une payante et une gratuite) puis de la configurer de manière à ce qu'elle lance Opera Mobile par défaut… et ensuite sélectionner « Browser Chooser » comme application par défaut pour les liens Internet sur votre Androphone :
Note : Si vous aviez déjà mis un autre navigateur sur votre androphone et que vous avez déjà sélectionné un navigateur par défaut dans ce cas il vous faut d'abord « supprimer les défauts associés » à votre navigateur par défaut actuel en faisant : Paramètres >> Applications >> Développement >> Gérer les applications >> Sélectionner votre navigateur par défaut actuel >> Effacer les associations (« clear defaults » en anglais… j'ai pas la version FR désolé

).
Télécharger et installer « Browser chooser » depuis le Market Android
Lancer Browser Chooser
Tapez sur « Settings » :
Sélectionnez « Use default ? » :
Tapez ensuite sur « Default browser » juste en dessous, puis sélectionnez Opera Mobile :
Maintenant, lancez « Internet » avec le navigateur fourni avec Android, ou lancez n'importe quel lien Internet en fait (dans un mail par exemple) et sélectionnez Browser Chooser comme application par défaut pour cette action :
Voilà c'est terminé !
Enjoy

—————————– Now for English / International readers

—————————–
Hi folks,
Opera Softwares recently released (11/09) their long-awaited browser & also very used browser on Windows Mobile : Opera Mobile !
Wtf ?! Opera on Android ? Well.. I already got it !
No, young padawan, what you got was Opera Mini (which is way different from Opera Mobile, but that's not the subject of this article).
Whereas, there is a little issue with Opera Mobile… : Android (at least Android 2.2 « Froyo ») does not recognize Opera Mobile as a browser (although it works with Opera Mini….) !
Thus, it's impossible to choose Opera Mobile as default browser in the browser choice window which is displayed – normally – when you have more than one browser installed on your androphone without having selected one of them as a default for opening links.
The tip is now a wonderful do-it-yourself, but quite simple : You have to install an application called « Browser chooser », which can be found on the Android Market (there are two versions : one free and one charged, select the free) and then configure Browser Chooser to use Opera Mobile as its default browser… your Android to set Browser Chooser as a default browser for you androphone :
Nota bene : If you already have installed another browser on your androphone and you set it as default browser, in this case you have to « clear defaults » of this browser before by following these steps : Settings >> Applications >> Development >> Manage applications >> Select your actual default browser >> « Clear defaults ».
Download & install « Browser chooser » from the Android Market.
Launch Browser  Chooser
Tap on « Settings » :

Then tap on « Default browser » and choose « Opera Mobile » :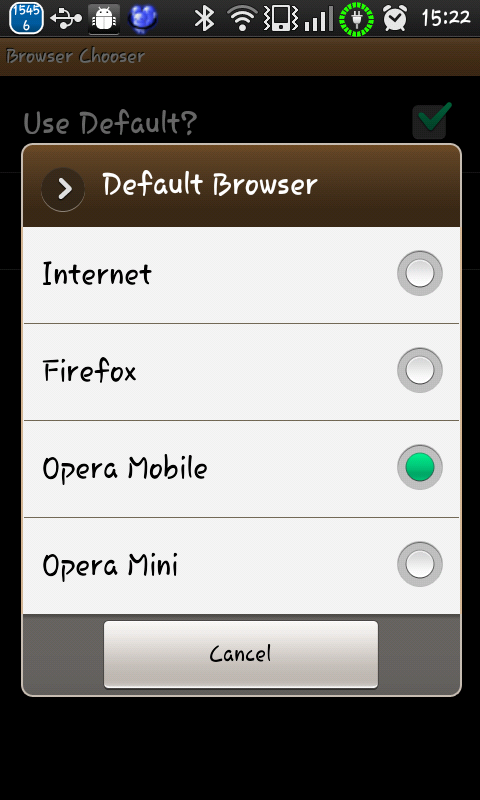 6. Now, launch « Internet » with the Android built-in browser or any other link (as in a e-mail) and select « Browser Chooser » as the default application for this action :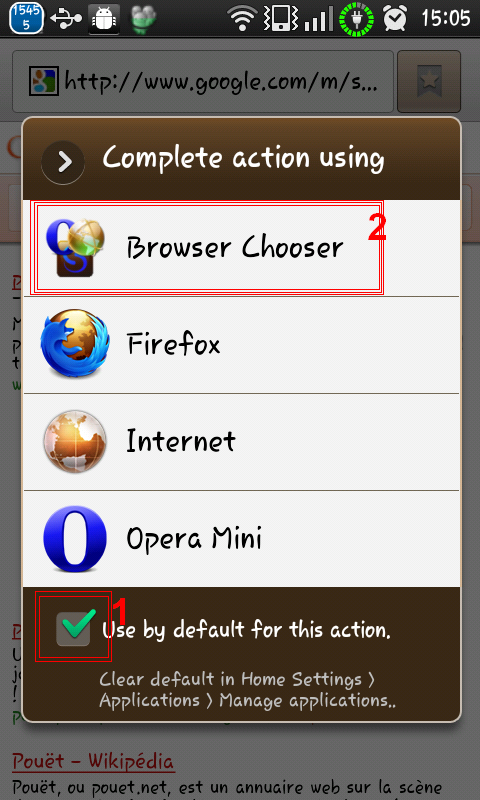 Here it is !
Enjoy